Dorothy L Sayer's Gatehouse inn goes on the market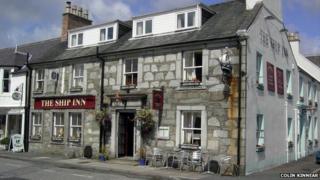 A landmark Galloway inn where author Dorothy L Sayers wrote a celebrated crime novel has gone on the market.
The writer penned Five Red Herrings at The Anwoth Hotel in Gatehouse-of-Fleet, Kirkcudbrightshire, ahead of its publication in 1931.
In a foreword to the novel, she paid tribute to the hotel's owner, "my friend Joe Dignam, kindliest of landlords"
Now known as The Ship Inn, the business has gone on the market for £425,000.
The book is one of a series following the work of Lord Peter Wimsey, an English gentleman detective.
Five Red Herrings is set in Gatehouse and Kirkcudbright, where the investigator was enjoying a fishing holiday when a local artist is murdered.
Oxford University-educated Sayers was a prolific writer who began her working life in advertising, when she apparently created the iconic Guinness toucan.
She was also a regular visitor to Galloway and in a letter to her landlord at the Anwoth, she said: "All the places are real places and all the trains are real trains, and all the landscapes are correct."
She added: "But you know better than anybody that none of the people are in the least like the real people, and that no Galloway artist would ever think of getting intoxicated or running away from his wife or bashing a fellow-citizen over the head.
"All that is just put in for fun and to make it more exciting."
The book was adapted for television in 1975, when Ian Carmichael played Lord Wimsey.
It was named one of the 10 best Galloway books by historian and critic Jack Hunter at the Wigtown Book Festival in 2005.