Visitors told to 'stay away' from Borders General Hospital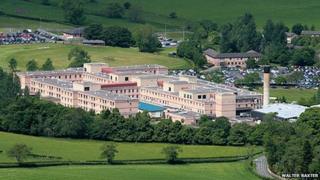 Visitors have been urged to "stay away" from Borders General Hospital in Melrose this weekend, amid a norovirus outbreak.
Its department of medicine for the elderly has been closed to admissions since Tuesday and two bays in Ward 4 have also been shut.
NHS Borders has also confirmed that two bays at Haylodge Hospital in Peebles have closed.
Patients have experienced diarrhoea and sickness lasting up to 72 hours.
Evelyn Rodger, NHS Borders director of nursing and midwifery, said the situation is being managed by the board's infection prevention and control team.
She said: "In order to safeguard vulnerable patients and enable us to limit the spread of this highly infectious virus, members of the public are being asked not to visit relatives and friends at the BGH this weekend unless absolutely necessary.
"The hospital can be very busy at the weekends with visitors. In order to control the spread of norovirus we urge the public to comply with our request and to stay away from the hospital.
"The diarrhoea and vomiting illness is usually over within 48 hours, but is highly infectious, which is why NHS Borders needs to limit the number of people moving in and out of the hospital.
"The last time we issued a request of this nature the co-operation from the public was incredibly helpful, and we would be most grateful once again for people to take our advice and please stay away."
She said that if visiting is "absolutely necessary", they should be limited to two visitors per patient at any time, and bringing children to the hospital will be actively discouraged.