Boy, 12, sought following Wigtown hotel break-in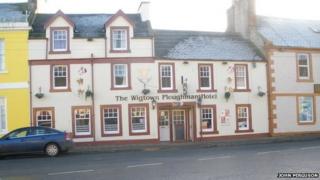 Police are trying to trace two men and a young boy in connection with a break-in at a south of Scotland hotel.
Alcohol worth £1,800 and about £3,000 in cash were taken from Wigtown's Ploughman Hotel at 23:30 on Sunday.
The two men seen in the area around the time of the theft were said to be aged between 18 and 25.
They were accompanied by a boy thought to be about 12 years old. All three of them were wearing dark clothing and hooded tops.