Dumfries and Galloway Council waste change cost rise 'significant'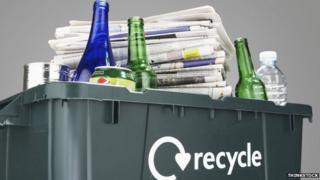 Dumfries and Galloway Council says there has been a "significant increase in costs" associated with a new multi-bin waste collection system.
The authority introduced the service in Wigtownshire last year with a view to rolling it out across the region.
However, higher participation rates than anticipated and slow collection speeds have seen costs rise.
A report said that it was not yet possible to put an exact figure on the financial impact.
Dumfries and Galloway Council used to run a single wheelie-bin system thanks to an Eco Deco plant which separated waste so householders did not have to.
New regulations prompted the council to move to the multi-bin system with five new recycling containers issued.
'Exceeded expectations'
It has promised to learn the lessons from the introduction of the scheme in Wigtownshire before extending it elsewhere.
The council report said the participation rate had "exceeded early expectations".
It said additional vehicles and staff had been needed to cope and added that the manual sorting of rubbish had slowed the system down.
A total of six formal complaints have been received about the service on a range of issues, but the authority said they had all been resolved.
The new collection method has also meant the need for new risk assessments and safe working methods for staff.
An independent specialist has been commissioned to carry out an "ergonomic review" of the service.