Mountain bike marathon elite descend on Selkirk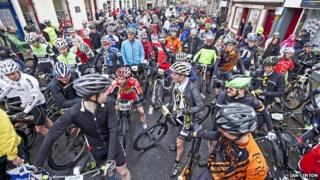 About 800 mountain bike riders have gathered in Selkirk for the British Mountain Bike Marathon Championships.
The "cream of the crop" of British endurance mountain biking are taking part in the event over a gruelling 75km course around the Scottish Borders.
"The standard is high," says event organiser Paul McGreal.
Although the race proper starts on a forest trail on Bowhill estate, there is a "grand depart" from Selkirk town centre.
Mr McGreal told BBC Scotland: "We work closely with Chamber of Trade and other organisations within Selkirk and they are incredibly receptive and supportive.
"In the centre of Selkirk there are displays in shop windows, bikes that have painted and chained to railings, there is all sorts cycling-related stuff that has been done completely off their own back by the businesses in the town."