Major investment to transform Agnew Park in Stranraer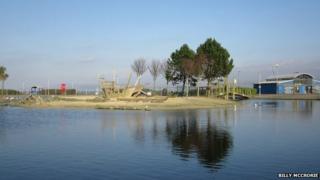 An £800,000 investment package has been earmarked to transform a public park in Stranraer as part of a wider regeneration of the town's waterfront.
The cash will be used to provide a new cafe, play spaces, enhanced lighting and environmental improvements.
A total of £54,000 may also be reallocated to pay for new playground equipment, in a proposal to be put to councillors next week.
It follows a public consultation on playground plans in March.
The Big Lottery's coastal communities fund has contributed £400,000 to Agnew Park's regeneration, a sum that has been matched by Dumfries and Galloway Council.
Members of the authority's economy, environment and infrastructure committee will be asked to approve plans to fund a playground which includes a tunnel slide, climbing wall, and fireman's chute.
The committee's chairman, councillor Colin Smyth, said: "The revitalised Agnew Park will be a great addition to the town's waterfront.
"The project is set to enhance the park as a useable events space and will encourage people to visit the waterfront which has benefited from significant council investment over the last few years."