St Abbs lifeboat station closure 'puts lives at risk'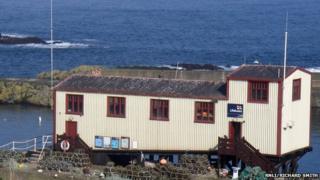 The station manager at a lifeboat station which is set to be closed has said the move will "undoubtedly put lives at risk".
The RNLI plans to shut the site at St Abbs by the end of the summer with an inshore boat added at nearby Eyemouth.
Station Manager Paul Crowe said he and his crew could not understand why they would shut a station in an area which was very popular with divers.
The RNLI said the plans followed a detailed review of requirements.
Mr Crowe said he believed the station should not be shut.
"We think it will undoubtedly put lives at risk," he said.
"St Abbs being one of the largest diving areas in Britain, we can't see a reason for shifting the rescue boat away from this area at all."
He said that there had been a few drownings in the harbour at St Abbs or near the rocks of the harbour.
"These are all within 150-200 yards of the station - we have seen the incident and we have still never managed to get to them in time and save them," he said.
"Time in that situation is really, really important."
'Good service'
However, RNLI operations director George Rawlinson said the decision was the result of lengthy consideration.
"I don't agree that we will put lives at risk," he said.
"We have looked at the incidents and the potential for problems very carefully indeed.
"Our lifeboats at Eyemouth are very capable and the inshore lifeboat, coupled with an all-weather lifeboat there, will provide a very good service."
He said their examination of incidents had shown that many of them happened in the Eyemouth area.
"We do have to take a very balanced look at the area and make sure we have got the right assets in the right place," he said.
"We haven't taken this decision lightly at all."
---
What do you think? Is the RNLI right that St Abbs can receive a very good service from nearby Eyemouth?
Or is it a mistake to close the station in such a popular diving area?
Email your thoughts toselkirk.news@bbc.co.uk