Borders Railway is handed over to Scotrail Alliance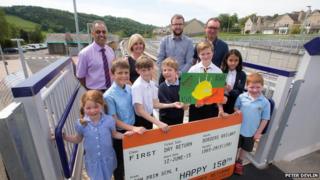 The new Borders Railway is due to reach another major milestone when it officially transfers into the ownership of the ScotRail Alliance.
It will mark the formal completion of the contract by BAM Nuttall.
The developer said the £294m project, linking Edinburgh with Tweedbank by rail, has been delivered "on time and within budget".
From Sunday the new 30-mile railway will be taken over by a group formed from Network Rail and Abellio.
Driver training has already begun on the track, which is the longest domestic railway to be constructed in Britain for more than a century.
About 1,000 construction workers were involved in the project at its peak, according to BAM.
The firm said more than £40m of subcontract and supply contracts were placed with local businesses.
It praised the "input, patience and support" of communities along the route throughout the design and construction process.
Project director Nissar Mohammed said: "Working closely with the residents, businesses, schools and community groups during construction has been one of the most rewarding aspects of the project.
"Delivering a project of this size and complexity within a very demanding construction programme, relies on strong connections with the people and communities most impacted by the construction process.
"This is a huge year for BAM as we celebrate our 150th Anniversary, the success achieved in bring a new railway to the Borders is undoubtedly the major highlight'.
The firm marked the occasion with pupils and teachers at Stow Primary School at Stow Station, one of seven new stations along the route.