David Mundell to open food bank in Dumfries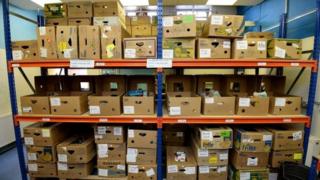 Scotland's only Conservative MP is to open a new food bank in Dumfries.
Scottish Secretary David Mundell has previously questioned claims of a link between food bank use and his party's welfare reforms.
SNP and Labour MSPs criticised Mr Mundell's efforts to distance welfare reforms from food bank use.
Another food bank in Dumfries, run by the First Base Agency, claimed Tory policies were directly contributing to poverty and food bank use.
Mr Mundell, the Conservative MP for Dumfries-shire, Clydesdale and Tweeddale, will open the Trussell Trust food bank on Friday.
He said claims of welfare-related hardship from Mark Frankland, a volunteer with the First Base Agency, "should be taken with a pinch of salt" because he is an outspoken Scottish independence supporter".
The Scottish secretary told Holyrood's Welfare Reform Committee in February: "The three issues that are most commonly raised in relation to food banks are sanctions, delays in benefit payments and low income. I do not accept that those three issues are welfare reform issues."
A Trussell Trust press release announcing Mr Mundell's visit states that welfare reform is causing hardship for individuals and families, and that benefit changes are one of the underlying causes of poverty.
Ewan Gurr, Scotland network manager for the Trussell Trust, said: "Like many small rural towns, Dumfries has seen the impact of the rising cost of food and fuel, insecure nature of employment and welfare reform, which has created financial hardship for many individuals and families throughout the entire local authority of Dumfries and Galloway."
The project will be based at the Apex centre in Dumfries and will work with 26 local agencies to identify people in crisis.
Fiona Dalgleish, centre co-ordinator at Apex, said that the project is expected to be very busy.
"The food bank in Dumfries will be an absolute necessity to support local people and help them break the cycle of poverty," she said.
It is the second of two projects launched by Apex Scotland in partnership with the Trussell Trust.
In November 2013, Wigtownshire food bank opened its doors to the public and has since reached almost 600 people.