Scottish trader charged over £1m US stock exchange fraud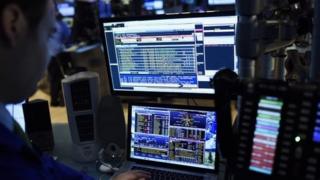 A 62-year-old Scottish trader has been charged in San Francisco with defrauding the US stock market.
James Craig, from Dunragit near Stranraer, is accused of tweeting false news designed to make share prices fall, so he could buy and resell shares for profit.
Fraudulent tweets were allegedly made about two firms by Mr Craig in 2013.
Police Scotland have confirmed they were asked by the FBI to assist with the investigation.
Prosecutors claim shareholders lost more than £1m as a result of his alleged tweets.
The US Securities and Exchange Commission (SEC) announced it had filed securities fraud charges against Mr Craig in a federal court in California.
Stranraer search
The tweets were about two companies, Audience and Sarepta Therapeutics.
Several tweets, suggesting Audience was under federal investigation, were said to cause the share price of the mobile audio company to fall 28% before the Nasdaq temporarily halted trading.
Further alleged tweets that claimed Sarepta Therapeutics was also subject to an investigation sent stock in the drug firm tumbling by 16%.
Prosecutors claimed shareholders had lost more than $1.6m (£1.05m).
Jina Choi, director of the SEC's San Francisco regional office, said the fraudulent tweets "disrupted the markets for two public companies and caused significant financial losses for their investors."
Financial writer Tom Petrino, a former business correspondent for the LA Times, told BBC Radio Scotland that Craig was a "lousy trader" who made less than $100 (£66) from the alleged fraud.
'What's happened here?'
A spokeswoman for Police Scotland said: "We can confirm that Police Scotland was asked by the FBI to assist with an investigation into allegations of fraud concerning a 62-year-old man from Scotland."
She said officers searched an address near Stranraer on behalf of the FBI on 29 April 2014.
Speaking from his home in Dunragit, Craig told the Scottish Sun: "I have never been approached by any law enforcement agency telling me I am subject of any investigation. Of course I deny it.
"The first I knew of it, in all honesty, was when the TV camera turned up this morning and I thought 'what's happened here?' Somebody texted me about two minutes later.
"No law enforcement agency has ever come to me. Nobody has interviewed me. Not even the local law enforcement have come to tell me about this."
He challenged US authorities to contact him directly, "instead of making allegations over the airwaves".