Sewage heating system helps keep Borders College warm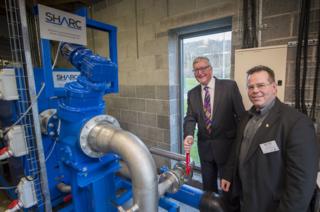 Waste water from a sewer is being used to power a heating system at the Borders College campus in Galashiels.
Energy Minister Fergus Ewing officially launched the UK's first SHARC energy recovery system.
It intercepts waste water from near a Scottish Water treatment works and uses a heat pump to then "amplify" its "natural warmth".
The system has been estimated to provide 95% of the heat needed by the Galashiels campus.
It is hoped the 20-year purchase agreement can produce savings in energy, costs and carbon emissions.
Russ Burton, of SHARC Energy Systems, said they were delighted to see the installation "up and running".
"This has been an extremely important project for us in the UK and Europe, and we have seen a lot of interest in the system elsewhere," he said.
Scottish Water finance director Alan Scott added: "The UK's first sewage to heat scheme in Galashiels is an excellent example of how water resources can be harnessed and maximised, furthering the development of Scotland's low carbon economy."
'Local control'
Mr Ewing also welcomed the project.
"The move towards low carbon and renewable heat offers enormous potential to boost Scotland's economic growth while providing affordable warmth by exploiting the opportunity for more productive use of energy for heating and cooling from a range of sources," he said.
Borders College vice principal Pete Smith said they were pleased to be at the "forefront of renewable energy use in the UK".
"This solution goes a long way to meeting our own carbon-reduction targets, while offering long-term price certainty and offering a good degree of local control," he said.
"It's fantastic that we are now at the stage of 'going-live' and we look forward to a continuing long-term partnership with the SHARC Team."