MSP Joan McAlpine's constituency office vandalised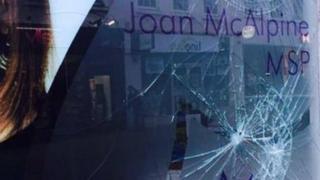 Police are appealing for witnesses after a south of Scotland MSP's constituency office in Dumfries was vandalised.
The incident happened at Joan McAlpine's premises in the Loreburne Centre on the town's High Street at about 03:00 on Monday.
PC Dale McEwan said CCTV footage showed a man wearing a dark jacket with the hood up and jeans smashing the window.
He was then seen running off towards the Dock Head.
Anyone who can help to identify the man has been urged to contact police.
Ms McAlpine said she would "not be intimidated" by the incident.
She shares the Dumfries shop with fellow SNP politicians Aileen McLeod MSP and Richard Arkless MP.