Hundreds evacuated amid Hawick and Jedburgh flood warnings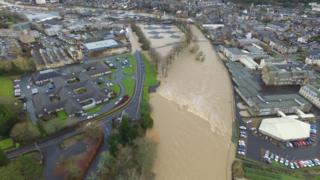 Hundreds of people were evacuated from low-lying parts of Hawick after severe flood warnings were issued.
They were taken to an emergency rest centre. Pupils were also evacuated from the town's Trinity Primary.
The waters appeared to have peaked by early afternoon but a severe flood warning remained in place for Hawick and Jedburgh.
Scottish Borders Council estimated about 300 properties in Hawick and 50 in Jedburgh had been evacuated.
A bus driver also had to be rescued by firefighters after getting trapped.
It had been feared the flooding could be as bad as that experienced during Storm Desmond but that appeared to have been avoided.
Around nine households in Jedburgh ended up needing temporary accommodation, while a similar number in Bonchester Bridge had also been affected by flooding.
In Hawick, it appeared a small number of businesses but no residential properties had been affected.
Honorary Provost Stuart Marshall said: "Hawick escaped by the skin of its teeth today.
"It was a very close call - it shows you how quickly the River Teviot can rise."
He added that it would inevitably lead to calls to bring forward flood protection plans for the town, or take some other form of action.
Environment Minister Aileen McLeod urged people to continue checking local forecasts in the hours to come as well as monitoring Sepa's floodline website with more rain to come.
She said the Scottish government was working with other agencies to ensure people and businesses were "fully prepared for possible flooding".
The A7 south of Hawick was shut by a landslip at Teviothead for a time and a number of minor roads were closed.
Many other routes were described as passable with care.
Scottish Borders Council has a full list of roads affected on its website.
The council opened its emergency planning bunker at 08:30 to deal with the impact of the heavy rain.
Due to rising river levels and risk to property, emergency rest centres were established at the Teviot Leisure Centre in Hawick and at Jedburgh Town Hall.
The severe flood warnings, which are issued when there could be a potential danger to life, were issued for Jedburgh to Jedfoot Bridge and Hawick (Teviot).
Residents in Commercial Road, Mansfield Road, Duke Street, Teviot Crescent, Noble Place, Buccleuch Street, Sandbed and the Haugh in Hawick were also being advised to move vehicles and take precautions to protect properties.
In neighbouring Dumfries and Galloway, the Dumfries and Galloway College campus in Dumfries was shut as were Brownhall, Caerlaverock, Hutton and Crossmichael primaries.
The A75 was affected west of Newton Stewart and also between Twynholm and Ringford.
The same road was also shut at Collin due to an accident at about 10:00.
A spokesperson for Scotland TranServ said: "The persistent, heavy rainfall over the last 24 hours has resulted in severe flooding at multiple locations on the A75 and the A76 in Dumfries and Galloway.
"Scotland TranServ has deployed 16 operatives from our local depots with plant and equipment and are working with Police Scotland to help alleviate the unprecedented volume of water on the affected trunk road routes."