Blue Peter's Lindsey Russell attempts Donaghadee to Portpatrick 'zorb' crossing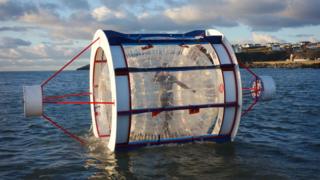 Blue Peter presenter Lindsey Russell is attempting to cross the sea between Northern Ireland and southern Scotland in a giant inflatable ball.
She will attempt to "zorb" her way from the beach at Donaghadee to Portpatrick harbour in Galloway for Sport Relief.
She left Northern Ireland at 06:30 and it has been estimated it could take her up to 14 hours to cross the 20 miles (32km) of open water.
"It is pretty scary," she said in the build-up to the Wave Runner challenge.
"It is quite claustrophobic but you can see through the zorb and through the ball more than you think."
She said she had put in a lot of time and effort to prepare for the event.
"I have been doing five months of training, in the gym six days a week," she said.
"It has been pretty hectic, working on the arm muscles, the leg muscles - all that kind of thing.
"This is why we have had the most amazing engineers actually building this zorb.
"It is not just any old zorb, it has got paddles - it really does move through the water quite well."
Viewers can follow Lindsey's progress on the CBBC website and every Thursday on Blue Peter on the CBBC channel, with The Wave Runner challenge airing on 17 March.