Calvin Harris' rich list fortune soars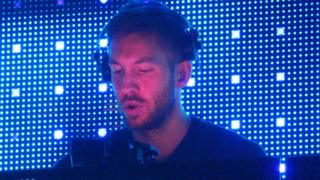 Scottish DJ Calvin Harris has seen his wealth more than treble in the last two years according to the Sunday Times Rich List.
The musician, from Dumfries, made his first appearance in 2014 with an estimated fortune of £30m.
The latest figures put his wealth at £95m which puts him at 27th position on the music millionaires top 50.
The list is topped by Sir Paul McCartney and his wife Nancy Shevell with a joint fortune of £760m.
Ian Coxon, who has edited The Sunday Times Rich Lists for 20 years, said: "Calvin is a surprise - he's so successful and gets paid so well.
"People get in fashion and have a great success.
"I don't know whether his success will continue at quite the same rate."
The music millionaires list has been released ahead of the annual Sunday Times Rich List which will be published this weekend.