Windy Edge wind farm appeal succeeds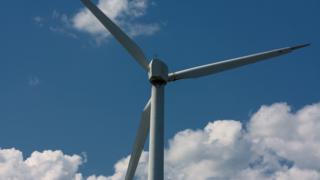 A wind farm rejected by a council as "incongruous and anachronistic" has been approved on appeal.
The nine-turbine Windy Edge project south of Hawick has been given the green light by a Scottish government reporter.
Scottish Borders Council rejected the plans about a year ago due to concerns over its effect on the landscape.
A reporter found it would have "no unacceptable environmental impacts" and ruled it could proceed.
The project attracted more than 300 letters of opposition, along with more than 100 in support of the scheme.
Planning officials recommended refusal and councillors voted by six to two to reject the proposals.
Supporters of the scheme claimed the turbines would have less of an impact on the landscape than forestry, and that it would help combat climate change.
Now the Scottish government reporter has decided the project can go ahead.
He concluded the development "would not impact on the setting" of the nearby Hermitage Castle and chapel.