Dumfries man jailed for killing 15-week-old Zaiidyn Burke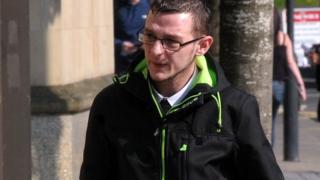 A Dumfries man has been jailed for killing a 15-week-old baby boy by shaking him in a fit of anger causing fatal brain injuries.
Paul Burgess, 25, attacked Zaiidyn Burke at a house in the town in October 2012.
A court heard that at the time he assaulted the child, he was suffering from a hangover.
He was jailed for seven-and-a-half years having previously admitted a charge of culpable homicide.
Passing sentence at the High Court in Edinburgh, judge Lord Boyd told Burgess: "You have led an unproductive and selfish life marked by use of cannabis and alcohol.
"The death of any young child is always devastating - but even more so when the death is by criminal acts of another person.
"From reading the victim impact statement, it is clear to see the grief and loss of the family.
"There is nothing I can do to restore their loss."
Burgess was convicted at the High Court in Glasgow last month.
He was originally charged with murder but pleaded guilty to the lesser charge of culpable homicide.
Sentence had been deferred to Edinburgh for reports about his character.
A court had previously heard he had been left in charge of the baby for just over an hour at a house in Sunderries Avenue in Dumfries.
When the child's mother, Jade Caven, returned home she realised something was wrong.
The child's lips and face were turning blue and he appeared completely lifeless.
He was rushed to Dumfries and Galloway Royal Infirmary and then transferred to Yorkhill Hospital in Glasgow.
The baby's father Lee Burke was at Ms Caven's side when the baby died on 29 October 2012, two days after Burgess's assault.
Defence advocate Lorraine Glancy told the court that Burgess had spent much of his teenage years abusing drugs and alcohol.
'Pain and anguish'
She added that he had been expelled from school and had come to the attention of the police on numerous occasions.
Ms Glancy also said that Burgess had now realised his actions were criminally wrong.
She added: "He has begun to acknowledge his responsibility for his actions.
"He acknowledges his regret and sorrow for what he has done.
"He knows he has caused great distress to Zaiidyn's parents.
"There is nothing that I can say which alleviate their pain and anguish."
Lord Boyd told Burgess that he would have got nine years if he had been convicted following a trial.