Dumfries: The town on the urban gull fight frontline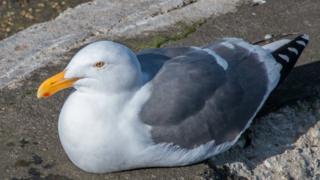 It is a familiar sight for any regular visitors to Dumfries town centre.
Some unsuspecting soul is nibbling nonchalantly on their takeaway lunch when a swooping seagull prises it from their hands.
And a car spattered with droppings - usually just after it has been cleaned - is almost a badge of belonging.
Suffice to say, the south of Scotland town has had more than its share of problems with its dive-bombing avian inhabitants.
Eight years ago, Dumfries hosted a summit meeting on the subject and 12 months later an Urban Gull Task Force was set up involving the Scottish government, Scottish Natural Heritage, an independent expert and Dumfries and Galloway Council.
The scale of the gull problem in Dumfries in 2015
630 Nesting pairs recorded

127 Live chicks removed

53 Complaints received
Thinkstock
One of its recommendations was a free nest and egg removal service which started in 2009.
This year a "limited trial" of gull repellent gel as well as fixing spikes in some popular nesting locations will also be tried out.
Their effectiveness will be monitored to see if they produce results.
The council has already been checking the impact of its other efforts and says "vital information" gathered on the subject is now being used by the scientific world and other local authorities across the UK.
Pairs of urban gulls nesting in Dumfries
Year
Town centre
Town edge
Total
2000
303
66*
369
2001
254
113
367
2002
240
149
389
2003
210
169
379
2004
201
129*
380*
2005
202
150
352
2006
191
130
321
2007
149
147
296
2008
138
160
298
2009
166
204
370
2010
218
450
668
2011
175
417
592
2012
185
486
671
2013
165
522
687
2014
153
410
563
2015
130
500
630
"Although impossible to prove, it would seem highly likely that without the measures deployed by the council, the breeding population of gulls in Dumfries would be considerably higher than the current population," concluded an Urban Gull Task Force report.
"It is critical that the details of the work continue to be recorded and analysed, in order to pick apart the contribution of various procedures that have taken place.
"This will enable Dumfries and Galloway Council to direct their efforts towards those procedures most likely to achieve success in the long term.
"Over time, it is hoped that this work will also benefit other councils when trying to decide how best to mitigate urban nesting gull problems."
Figures show that the number of gulls in the town centre has declined significantly over the years although they have risen on the edge of town.
The number of complaints from the public has fallen sharply over the time the egg and nest removal scheme has been in operation.
The council said it would not underestimate the scale of the problem.
"There is no doubt that gulls continue to create real misery for many people whether that's through noise or aggressive behaviour by parent birds protecting their young," said councillor Colin Smyth.
"It's encouraging that the nest removal scheme is continuing to reduce numbers in the town centre where it is targeted at, and the overall number of complaints received has fallen."
However, he said the public had a part to play in ensuring they continued to make progress.
"I would therefore urge people to report any nest causing a nuisance, ideally as early as possible and certainly before eggs have hatched," he said.
"I'd also ask that property owners maintain their roofs and call for this service if they have a problem with nesting gulls as the council can only remove eggs with the permission of property owners.
"It's also frustrating that some people still appear to be feeding gulls and dropping litter which provides a food supply and community safety officers are having to regularly patrol Dumfries town centre."
It all means the town's battle with its urban gulls is unlikely to be over any time soon.