Timber firm James Jones plans new Johnstonebridge plant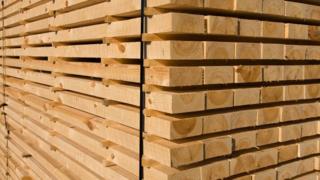 Sawmill group James Jones and Sons has tabled plans to build a new timber processing plant in Dumfriesshire.
It is part of a move by the firm to expand its operations in the area.
The site earmarked for the processing facility is on agricultural land close to the A74(M) at Hangingshaw, near Johnstonebridge.
It would act as a satellite to its current sawmill complex which lies just a few miles south at Stephen's Croft on the outskirts of Lockerbie.
That £25m plant opened in 2009 and remains one of Europe's most technologically advanced sawmills, employing about 150 workers.
The proposed new development would add capacity to the existing operation.
No objections have been tabled and Dumfries and Galloway Council planning officials are recommending that consent is granted subject to conditions.