Bladnoch Distillery set to resume production by spring 2017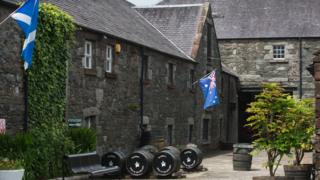 The new owners of Scotland's most southerly whisky distillery at Bladnoch near Wigtown are on track to resume production by spring 2017.
The historic site was rescued from liquidation in 2014 by Australian entrepreneur David Prior.
He is being supported by director Gavin Hewitt, a former chief executive of the Scotch Whisky Association.
He said that while there was a lead-in time before the first bottles appeared, there had been plenty of interest.
"Everything is on schedule - all the buildings are being restored and renovated," he said.
"All the infrastructure is going to be there - we are now waiting to actually start the installation of the distilling equipment.
"There will be four stills, new boiler, new mash tuns, new wash backs, it's a very exciting project."
'Great pleasure'
It will be a while before any new whisky is available to sample but there will be some old bottles brought to the market more quickly.
"The first whisky will be there for 2020 in terms of the new distillation," said Mr Hewitt.
"We have a great pleasure in Bladnoch of having an inventory which we inherited when David Prior bought it.
"We will be putting Bladnoch on the market for the first time from the inventory in October this year - initially in Australia but it will also be available from the distillery."
Mr Hewitt said there appeared to be a real interest in the product.
"It is fascinating to see how many Bladnoch aficionados there are out there desperate to lay their hands on a first bottle," he added.