Key Dumfries and Galloway transport questions on agenda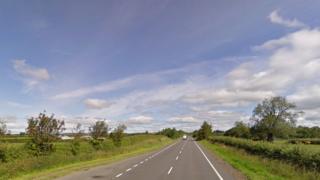 A call for increased investment in the A75 has been renewed after a date was announced for a Dumfries and Galloway transport summit later this month.
The event will be held in Dumfries on 22 August.
Conservative MSP Finlay Carson said Transport Minister Humza Yousaf should not turn up "empty-handed" and deliver promised investment on the A75.
SNP counterpart Emma Harper said the route would feature heavily but it was important to look at all transport.
Campaigners want to see the road running from Gretna to Stranraer upgraded to dual carriageway.
A recent petition seeking the move attracted more than 2,500 signatures.
Mr Carson said he hoped the summit would pave the way for significant investment in the route and be more than a "talking shop".
"For too long, the people of this region have felt left out when it comes to investment in our transport and infrastructure," he said.
"Only last week, a report by Audit Scotland put the region's roads at the bottom of maintenance league tables with less than half the roads in an acceptable condition.
"It simply isn't on."
He said he accepted that many roads were the responsibility of local authorities but he claimed they were "cash strapped" due to under investment by the Scottish government.
'Work done'
"The people of Dumfries and Galloway expect the SNP to stick to their pre-election pledge of more investment in the A75," he said.
Ms Harper said her party also wanted the event to deliver results.
"I can definitely say it is not just going to be a talking shop," she said.
She paid credit to her colleague Joan McAlpine who put forward the plans for the event during the run up to the election.
"There has been a lot of talk about the A75 needing upgrades and there has been a lot of work done on the A75 over the last few years," she said.
Ms Harper cited the Dunragit bypass and Hardgrove upgrade as examples of those efforts.
However, she said the summit would not be exclusively about the A75.
She said roads like the A77 and A76 would be discussed as well as rail and bus services.
"It is more than just the A75, we have got to look at the whole connection that is going to make the whole rural economy productive," she added.