Galashiels ice cream man, 94, hangs up his scoop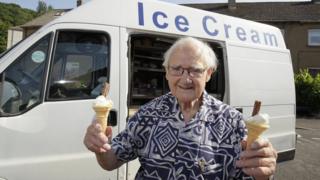 A pensioner from the Scottish Borders, thought to be the oldest ice cream van driver in the UK, has hung up his scoop at the age of 94.
Adam Kelly from Galashiels was forced to stop his round due to his failing eyesight.
He said he had intended to carry on for as long as he could "get out and in the van".
Tributes have been flooding in after news of his retirement was posted on a Facebook page at the weekend.
Mr Kelly said it was only an eye test which eventually put the brakes on his enthusiasm for his work.
"I just didn't want to stop, I just wanted to carry on," he explained.
"I got up every day, got the van ready and then went out - I just quite enjoyed it."
'Quite busy'
The D-Day veteran said he had seen a number of changes in the business since he started more than 50 years ago.
"Lately I went out about two o'clock and I was finished about seven or eight," he said.
"When I started at first I could have gone on all night.
"Nobody had freezers in those days and the shops all shut at about five o'clock - I was busy at night.
"I have been quite busy since but not as busy as I used to be."
Since stopping his rounds, Mr Kelly said people had told him they would miss seeing him around the town.
"There are a few folk I have met since I retired and they all say they miss me," he added.