Dumfries and Galloway transport summit findings published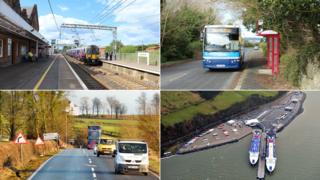 A draft report has been published on a recent summit to discuss the transport issues facing Dumfries and Galloway.
Transport Minister Humza Yousaf chaired the event at Easterbrook Hall in Dumfries last month.
Improving connectivity, better road safety and the importance of local bus services were among the issues highlighted during the summit.
The full findings are available online and the public is being encouraged to comment before the end of October.
The publication of the draft report is the first of a list of follow-up steps agreed from the summit including:
a final summit report by the end of the year
engagement with transport pressure groups
preparation of a village traffic management study for Springholm and Crocketford
key partners to discuss improved connectivity in Stranraer and Cairnryan
talks on capacity and condition of rail stock on the Nith Valley line
wider discussion of what can be done to support bus services
Mr Yousaf said the event had provided a "great forum" to discuss the role of transport in the region.
He said it was clear that connectivity with the Central Belt and further afield was a key issue.
"As I made clear at the summit, we are planning to review the National Transport Strategy and the Strategic Transport Projects Review," he said.
"As part of that, we will be considering improvements to the A77 south of Girvan, links to the Cairnryan ferry hub and the A75 and also improvements to connect Dumfries and the A74(M).
"Ahead of any major improvements to the trunk road network, we are committed to looking to establish if any more immediate measures can be introduced to improve safety."
He said he had met with the local campaigners for the A75 and his officials had held a public meeting in Springholm.
Mr Yousaf said other investment was ongoing and they would also be working to improve bus services across Scotland.