Ice Age fish continue to flourish in loch near Moffat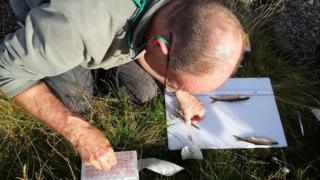 A type of fish which dates back to the Ice Age has been found to be flourishing after being introduced to a south of Scotland loch.
Numbers of vendace, Britain's rarest freshwater fish, in Loch Skeen near Moffat are said to be "significant".
The fish were introduced to the loch in the 1990s using stock from Cumbria.
At that point the only stable population was in Derwent Water and more than 100 lochs were assessed before Loch Skeen was selected.
The vendace has only ever been known at four sites - Bassenthwaite Lake and Derwent Water in the Lake District and the Castle and Mill Lochs in Lochmaben.
'Rarest fish'
The fish died out at its Scottish sites many years ago.
The National Trust for Scotland (NTS), has been working with Scottish Natural Heritage (SNH) and experts from the University of Glasgow to establish a thriving population of the fish in Loch Skeen, which sits in the NTS Grey Mare's Tail nature reserve.
Monitoring of the fish at Loch Skeen over the summer has revealed that the population has established itself well enough for breeding to take place and "significant numbers" of the fish to be evident.
Richard Clarkson, property manager at Grey Mare's Tail, said: "Vendace are our rarest freshwater fish.
"They have sadly disappeared from other lochs, mainly due to pollution affecting the water quality but also from the introduction of other fish species that would eat their eggs or the fish themselves.
"The species was extinct in Scotland before they were introduced to Loch Skeen, so it's great that the trust has been able to help them out."
Lindsay Mackinlay, the NTS nature conservation adviser, said the loch had been selected as it had all the features the vendace needed to thrive.
'Doing fine'
"But there is always an element of uncertainty when a project like this reintroduction takes place," he added.
"With species like vendace, it's not just a simple case of plopping a few fish and eggs into a loch and abracadabra, there they are.
"You need a team of highly trained and experienced fish ecologists along with the support of key partners, before such a reintroduction will work."
He said monitoring work had shown that the fish were "doing just fine" in the loch.
Prof Colin Bean, a senior adviser on freshwater fish conservation with SNH, added: "The introduction of vendace to Loch Skeen has been a significant conservation success story and, although we already knew that the species had successfully established within the loch, there is always a need to check on their progress.
"We are, therefore, delighted to confirm that the population is in good health.
"This is clearly helped by the sympathetic management which Loch Skeen receives from NTS, and there is nothing to suggest that this population will not continue to thrive there."