Cairnryan port puppy trafficking power pilot extension agreed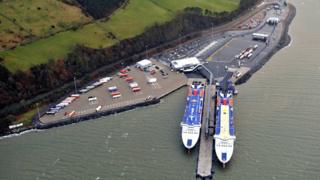 A council has agreed to extend powers which have seen 140 puppies seized at the port of Cairnryan in a pilot project to tackle trafficking.
The scheme started in January after concerns raised by the BBC Scotland programme The Dog Factory.
It found evidence of dogs being shipped from illegal puppy farms in Northern Ireland which were then sold by online sellers as animals bred in Scotland.
The animals were being transported through the south of Scotland port.
Under the pilot scheme, Scottish SPCA investigators were using new powers to stop and search the vehicles of those it suspected of illegally trafficking puppies.
Dumfries and Galloway Council has agreed to extend the powers given to Scottish SPCA officers for another year.
To date, it has seen seven people stopped and more than 100 puppies taken and rehomed.
Prior to the pilot scheme, Scottish SPCA inspectors could attend the port but were sometimes unable to use their powers under the Animal Health and Welfare (Scotland) Act if there were no visible welfare issues.
However, the council has now authorised a number of them to use its powers to detain, return or destroy puppies under the Trade in Animals and Related Products (Scotland) Regulations 2012 (TARPS).
It is that authorisation which the council has agreed to extend for up to another 12 months beyond the end of this year.