Van catches fire in Dumfries superstore car park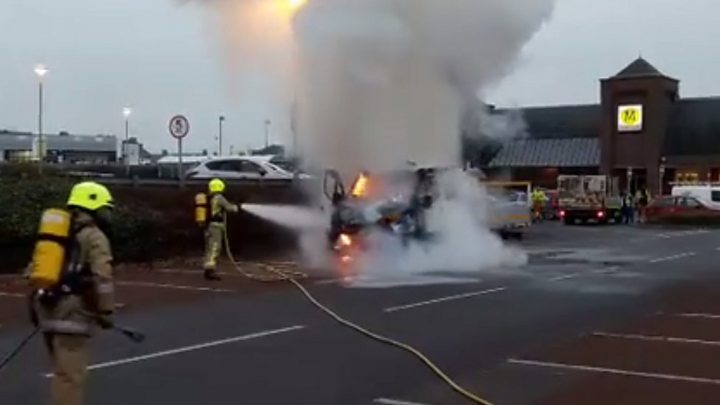 Emergency services have been called out after a van caught fire in the car park of a supermarket in Dumfries.
The incident happened at about 09:15 outside the Morrisons store on the town's Brooms Road.
Police Scotland posted live images from the scene of the fire on their Facebook page.
The Scottish Fire and Rescue Service said the flames had been put out quickly and nobody had been hurt in the incident.
"The crew from Dumfries left the scene after ensuring the area was safe," a spokesman added.
Dumfries and Galloway Council confirmed it was one of their vehicles which was being used to fill salt bins in the town.
'Smoke and flames'
"When they tried to tip the rear of the vehicle to deliver salt, the mechanism jammed and it wouldn't tip," a spokesman said.
"The crew were on Leafield Road, heading back to the depot, when they saw smoke and flames at the rear of the vehicle.
"They drove into Morrisons car park, where they tried to extinguish the fire using the on-board fire extinguisher. However, the fire was beyond its capacity."
The crew then phoned 999 and firefighters put out the flames.
The vehicle has been returned to its depot and the cause of the fire is being investigated.