Annan takeaway delivery man attacked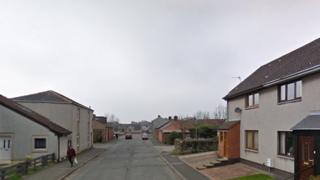 A takeaway delivery man has suffered facial injuries in an apparently unprovoked attack in Annan.
The 24-year-old was approached by three men and a woman on Rose Street at about 19:30 on Wednesday.
After a brief conversation two of the men in the group carried out the assault.
Police are to review CCTV footage and are carrying out door-to-door inquiries in the area but asked anyone with information to come forward.
They have issued descriptions of the group who stopped and talked to the man.
One is described as white, in his late 20s to early 30s, tall and slim, with blond/brown hair cut short and a slim face.
He was wearing an unzipped dark jacket with a white T-shirt underneath.
The other men were also white, Scottish, in their early 20s and of average height and slim build.
One of them was wearing a green/grey woollen beanie hat with no turn-up part and a dark jacket.
The woman has been described as white and Scottish, with long, brown hair in a ponytail. She was of slim build and was wearing a dark hooded top.