Borders fox-hunting trial gets under way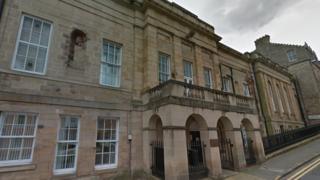 Two men have gone on trial in the Scottish Borders accused of hunting foxes with hounds - illegal in Scotland since the Wild Mammals Act 2002.
John Clive Richardson, 66, and Jonathan Riley, 24, of Bonchester Bridge, deny the charge.
Jedburgh Sheriff Court saw footage filmed by an employee of the League Against Cruel Sports.
Terence Hill told the court he had been observing hunts throughout the UK for 30 years.
He described what he said he had filmed on 18 February 2016 which he said was the Jed Forest Hunt and how the two accused were taking part.
Mr Hill said the footage showed hunt members using a terrier to flush a fox from a hole and then encouraging foxhounds to chase and kill it.
He said foxhounds could only be used to flush a fox out of cover towards guns, which should have been used to make the kill.
However, Mr Hill said there was no evidence of guns being there, but he described what he said was hunt members calling and encouraging hounds to chase a fox, which he said he assumed died later.
He also said he saw one hunt member - in charge of the terriers - try to trip the fox up as it attempted to escape back down a hole.
The trial continues.