Dispute over Wanlockhead bowling club deal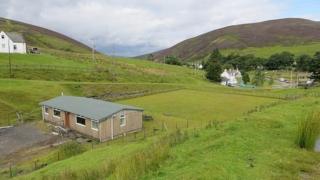 The sale of a slice of land in Scotland's highest village has provoked an ownership dispute.
Buccleuch Estates has sold the former bowling green and clubhouse in Wanlockhead to the local museum trust.
The bowling club gave up its lease in 2011 but the village council has continued to rent a parking area.
It said the clubhouse was funded and built by the community and has questioned Buccleuch's right to sell it as part of the deal.
A public meeting has been called in the village hall to discuss the issue.
Village council spokesperson Alanna Rogerson said the situation was "all a bit confusing".
'Transfer ownership'
"The bowling club was physically built by villagers with help from the Nithsdale council in 1990 with no financial input as far as we are aware from Buccleuch," she said.
"So I am not sure how they can gift that over or transfer ownership when they don't own it.
"I think they must own the land, obviously, but the actual physical building belongs to the village."
In response, Buccleuch Estates said it was well documented that they owned the land and clubhouse.
A spokesman said they had written to the village council in February last year to clarify the issue and highlight their willingness to discuss the future of the premises.
He said when the lease on the bowling club ended, the clubhouse was in a dangerous condition and had to be closed on safety grounds.
Buccleuch insisted the deal with the Wanlockhead Museum Trust ensured the building would be restored and put to community use.