Springholm and Crocketford traffic signals could solve A75 safety fears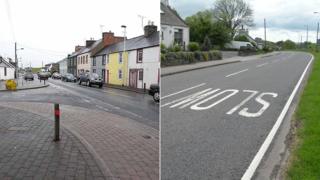 Transport Minister Humza Yousaf has said new traffic signals could offer a short-term solution to safety concerns in two villages on the A75.
Some people in Springholm and Crocketford want to see a bypass built.
Mr Yousaf visited the area to speak to campaigners calling for action to help slow down passing vehicles.
He said that he was aware of local support for a bypass but added all options were being considered to try to address the situation.
"We go with an open mind - we have been having good discussions with campaigners and elected members in both Springholm and Crocketford," he said.
"The chance to come down personally and see myself some of the traffic flows is always very helpful."
He said some measures were being considered for the financial year ahead, including "very innovative" solutions.
'Lethal speeds'
"For example, we are looking at traffic systems that react to those who are perhaps speeding and perhaps put on the red light quicker than they would normally," he said.
"Innovative measures like that are being explored and we have given a commitment to doing that today."
Springholm resident Chris Wybrew said there was a real issue with the speed of vehicles travelling along the route.
"There are a lot of homes that are within anything as little as two metres to about four metres from the carriageway," he said.
"We're exposed to traffic speeds - although it's a 30mph limit - we've got traffic speeds ranging up to twice that speed limit and routinely up to 40mph and more.
"So it is a real concern to us because these are lethal speeds."