River Tweed salmon catch figures fall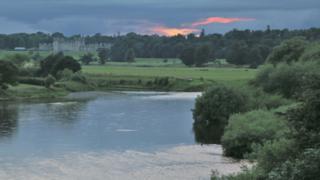 A report has shown the total salmon catch on the River Tweed fell by 7% in 2016 compared with the previous year.
Overall numbers caught by rod and line and by net fell from 8,644 in 2015 to 8,221 last year.
The River Tweed Commission annual report said rod catches in particular were at their lowest level for a number of years.
It said balancing declining stocks and the need for protection would be a challenge for the "foreseeable future".
The report said autumn catches in particular had declined and could result in an "increased reliance on spring and summer fishing".
However, it warned that would have "significant consequences" in terms of letting revenues achievable on the river as a whole.
A reduction in poaching activity was reported over the year covered by the report.
It was also said to have been a "good year for the biologists" with the collection of "vital data" continuing which could help give insight into fishing stocks and their future prospects.
The value of the river to the economy of the Borders and North Northumberland has been estimated at about £24m-a-year.
Fishing and other activities on its waters have been credited with supporting some 513 jobs.