Schmallenberg Virus confirmed in Scottish sheep flocks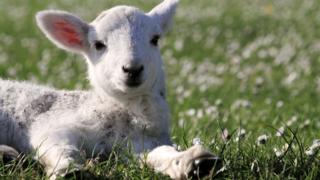 A virus which can cause stillbirths or birth defects in livestock has been confirmed in lambs in two Scots flocks near the border with England.
SAC Consulting veterinary services diagnosed the cases of Schmallenberg Virus (SBV) in the past two weeks.
It follows the increasing numbers of affected lambs identified in England and Wales throughout the winter.
Farmers seeking advice on possible incidents of SBV in their animals have been advised to speak to their vet.
SBV was first detected in the UK in southern England in January 2012.
It is spread by midges and can cause brain and limb deformities in lambs and calves.
'Maximum activity'
George Caldow, head of SAC Consulting veterinary services, said: "It can be difficult to predict how widespread any infection will turn out to have been or to be but there are some important points that give us an indication of the likely impact that SBV infection will have this spring on Scottish livestock.
"In winter 2016-2017 SRUC vets have not diagnosed SBV in either early lambing flocks in Scotland or in all year round calving dairy herds in Scotland.
"It is therefore inferred that at the time of maximum midge activity in 2016 there was unlikely to have been SBV present in the midges in Scotland otherwise we would have seen cases in these two categories of animals."
He said it could be that only a small number of ewes had been affected in the south of the country.
SAC Consulting said it expected the higher risk would be to cattle mated in the summer of 2017 and at the edge of the northward progression of infected midges.
However, it said there might only be "limited spread" into Scotland as was seen in a previous epidemic.