Dumfries and Galloway police chief sets out future vision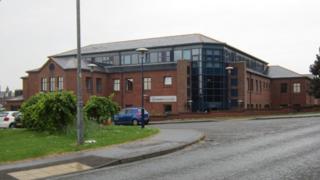 The divisional commander of police in Dumfries and Galloway has responded to concerns raised over a 10-year vision for developing the service.
The local authority highlighted issues such as call handling, station closures and a "one size fits all" approach.
Ch Supt Gary Ritchie pointed out the council had strongly agreed with the "direction of travel" for services.
He also urged everyone with views on the programme to take part in consultation currently under way.
Police Scotland and the Scottish Police Authority are currently seeking views on their 2026 strategy.
A draft Dumfries and Galloway Council response has given strong agreement with the vision but raised some concerns about recent issues.
They included:
a "loss of confidence" in the police attributed in part to difficulties with the 101 call service
the importance that "one size does not fit all" for policing across Scotland
a need to recognise the impact of low level crime in small towns and villages as opposed to bigger central belt locations
communication issues over recent proposals to shut a number of stations
---
On call handling
"At the inception of Police Scotland we have seen problems across the country in relation to the 101 service," said Ch Supt Ritchie.
"The truth of the matter is now that the improvements in that service have been quite significant."
He said the system was now state-of-the-art in global terms.
"We have a better response to calls for service now right across Scotland than we have ever had," he said.
He accepted some local interaction had been lost without a Dumfries control room but said there had been wider improvements.
"What I am more concerned about is getting resources to people who need the police as quickly as possible and we are better at that," he said.
---
On 'one size fits all'
"I 100% accept that attitude," said the divisional commander.
"Previously I worked in Edinburgh and you could have, on a bad night, a couple of dozen house break-ins in Edinburgh.
"I'm not saying that that wasn't a problem, of course it was a problem, but in a rural community one has a bigger impact than those 24 on a city environment and I absolutely accept that."
He also accepted that at the outset of bringing eight separate forces into one there were approaches which would have been "quite alien in some communities".
"There has definitely been a recognition of that and a move away from that," he said.
He said the region now had a "bespoke" policing model which had been enabled by the national organisation.
---
On closure consultation
"We did the widest consultation ever seen for any issue in Dumfries and Galloway pre or post Police Scotland in respect of our proposals round about our police stations because I know it is an emotive subject," he said.
"What I would say is we're still actually at an early stage with that - the police stations are not owned by me, they are owned by the Scottish Police Authority.
"I have drawn together recommendations for a way forward because some of the police station that we have in the community are lying empty and they are costing a lot of money.
"I can use that money better and I can actually have a better deployment model for policing in the community.
"So for every single station that we are talking about we have an alternative plan."
---
On the future vision
"I know that there was a huge amount of community pride in Dumfries and Galloway Constabulary," he said.
"If we hadn't gone to Police Scotland, Dumfries and Galloway Constabulary would not look like the way that it did back then now.
"It wasn't Police Scotland that created the issues that clearly required us to look at how we funded our public services in this country."
He said the old force, had it continued, would also have faced "dwindling resources on the front line and rising crime".
"The financial challenges that were facing every country and every society would not have disappeared just because we didn't have a national force," he added.
He also encouraged people to take part in consultation on the Police Scotland website.