Dumfries Peter Pan house works set to begin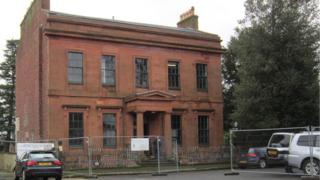 Work is set to begin to establish a Scottish centre for children's literature in the Dumfries house which helped to inspire the Peter Pan story.
Author JM Barrie played in the "enchanted land" at Moat Brae on the banks of the River Nith as a boy.
The Peter Pan Moat Brae Trust has announced that it has reached its £5m target for the renovation project.
It has also agreed a contract to allow the programme of major improvement works to begin next month.
Project director Cathy Agnew said it was an "important milestone" for the scheme.
"It is the culmination of seven-and-a-half years where we have been trying to put together the whole project," she said.
"We have achieved a £5m milestone which is for the construction contract."
She said Balfour Beatty would be carrying out the works to overhaul the prominent property.
"This is a very exciting project for them and it is very important for us to be working with a national company like this, it is great," said Ms Agnew.
She said it had been a long journey to get to this stage in the project.
"It has been a long time and there have been various ups and downs and different ups and downs within the economy," she said.
"We have been fortunate to have had good support from public funding sectors and private trusts and foundations and, indeed, individuals.
"It has been a real team effort."
The trust hopes the project can attract 40,000 visitors a year, contributing £1.3m to the local economy.
It should create a dozen new jobs with about another 20 created indirectly by the extra visitor spending.
The renovation works should be completed by 2018.
JM Barrie was born in Kirriemuir in Angus, but moved to Dumfries in 1873 as a teenager and was a regular visitor to the Moat Brae property.