Second arrest follows Dumfries farm park wallaby death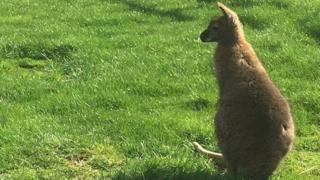 A second youth has been arrested following the death of a wallaby at a farm play park in southern Scotland.
The incident happened at Dalscone Farm Fun in Dumfries on Saturday night after the park's three wallabies were chased around their enclosure by five boys.
Two of the animals escaped the enclosure but the third was left so distressed that it died.
A 16-year-old boy was arrested earlier this week and police said another boy had now also been charged.