Wild Film Festival Scotland in Dumfries 'a big success'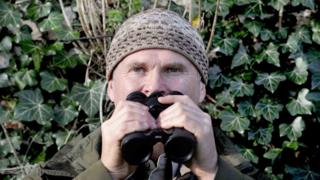 Organisers have said a new festival celebrating the very best wildlife film and photography in Dumfries proved "a big success".
The inaugural Wild Film Festival Scotland took place in the town from Friday until Sunday.
Special guests included Springwatch's Iolo Williams, Simon King of the Big Cat Diary and the woman dubbed the "human swan", Sacha Dench.
Organisers said a total attendance of more than 2,500 had been recorded.
Mr Williams said: "It's such a fantastic idea, and really refreshing, to have a festival like this somewhere outside a big city.
"It's a chance to get out and enjoy the countryside as well as seeing films and hearing speakers.
"And there's so much in Dumfries and Galloway, with the Solway Firth and all the great reserves there are here.
"It's also within easy reach of Edinburgh, Glasgow, Carlisle, Newcastle and so many other places."
Festival organiser Sid Ambrose described it at as a "fantastic weekend" with wonderful weather.
"It was a great way to showcase this beautiful part of Scotland at its very best," he said.
"This was the first event of its kind in Scotland and we'd really like to thank everyone who took part, including the public who came along to enjoy the events and all the volunteers, sponsors and supporters who made it happen."
Ed Forrest, from the Southern Uplands Partnership which is behind the festival, added: "We have had so much positive feedback from this event - it has been quite remarkable and we very much hope this will the first of many Wild Film Festival Scotlands."