Tourism chief sees 'more potential' in Dumfries and Galloway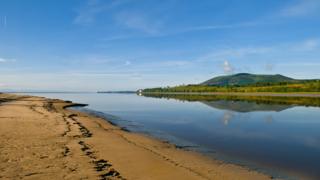 The rapidly-expanding Dumfries and Galloway visitor industry can grow even further, it has been claimed.
VisitScotland Chief Executive Malcolm Roughead said he saw "more potential" for tourism during a stop on his "listening tour" in Dumfries.
He said the industry was worth about £300m-a-year to Dumfries and Galloway with employment up by 16% last year.
Mr Roughead said those figures could go higher if businesses worked together to provide the best offering possible.
It has been estimated that tourism supports about 7,000 jobs directly and indirectly in the area already.
Mr Roughead was speaking at Dumfries and Galloway College where he saw "future stars of tourism" - a group of hospitality students - in action at its Zest Restaurant.
"It is a very competitive market and we have to make sure that we do all the basics right," he said.
"That is things like making sure that people can book online."
He said half of the businesses working with VisitScotland in the region did have that facility but that still meant 50% did not.
Mr Roughead added that the recent fall in the value of the pound could also be used in the area's favour.
"The exchange rate variation is a short term tactical opportunity - it is not a long term strategy for growth, but we should be taking advantage of that," he said.
"We are more competitive than we have ever been.
"We have almost a perfect storm because it is more expensive for people living in the UK to go outside of the UK on holiday and it represents better value for money for people coming in.
"The opportunities are there but they are not just going to be handed to us on a plate - we have to work hard to get them."
The tourism chief said Dumfries and Galloway had a lot to offer to visitors.
"You have an incredibly vibrant, wonderful creative sector here," he said.
"The amount of work that has gone into that particular area and events and festivals - they are really quite compelling.
"Add that to the natural assets that you have around the scenery and the coastline and outdoor activities and there is something for everyone but it is just making sure that we collectively get the message across."
'Authentic experiences'
Mr Roughead said food and drink was another area to exploit.
"If you go way back to 2001 and foot-and-mouth disease, a lot of farmers had to diversify and started to see themselves as part of the tourism proposition," he said.
"Out of that crisis came collaboration.
"Right now at this time people are looking for authentic experiences - that kind of homogenous, pre-packaged stuff people aren't interested in.
"When they go to an area they want to taste what the local delicacies are and you are perfectly placed for that."