Stow wheelie bin message targets speeders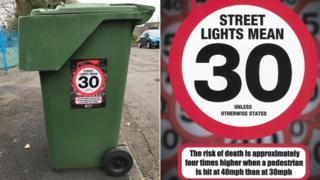 A Borders village is putting a message on its wheelie bins to try to stop vehicles breaking the 30mph limit.
Stow sits on the main A7 route from Edinburgh to the Scotland-England border.
About 5,000 vehicles a day use the road to pass through the village with some failing to observe the speed limit.
Police Scotland said it regularly stationed a camera van in the area but it could not be there all the time and welcomed the wheelie bin posters.
"The poster initiative will provide a visual reminder to drivers on refuse collection days of the dangers and likely outcomes of excessive speed," said Insp Vinnie Fisher.
"It is a novel approach which has previously had success in England and Wales.
"The local community council is fully supportive, as is Scottish Borders Council."
He said the posters would be put up this week and their impact evaluated later in the year.
"We are hopeful of success, at which point we will consider extending it to other areas," he said.