Newton Stewart flood warning scheme launched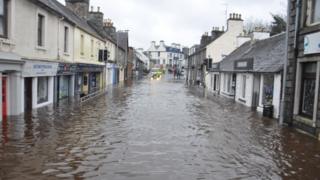 A new warning system in a town badly hit by flooding problems in the past will alert hundreds of homes and businesses to rising water levels.
The scheme, launched in Newton Stewart, uses real-time forecasting models to predict problems.
The Dumfries and Galloway town suffered its worst flooding in half a century in December 2015.
Residents were invited to a drop-in session to learn how to sign up for the warning system.
Stewart Prodger, from the Scottish Environment Protection Agency's (Sepa) flooding unit, urged as many people as possible to attend.
'Community resilience'
"We would encourage anybody who lives, works or travels through the area and is interested in seeing what the flood warning service can do for them to drop in and talk to us about it," he said.
"There will be Sepa flooding experts and people from the Scottish Flood Forum on hand to give people advice.
"So we will be able to talk about the new flood warning service, show people how it works, register them and make sure we have got all their details.
"And the SFF will also be able to talk to them about community flood group operation, property-level protection and other forms of community resilience."