Dumfries and Galloway and Borders council election nominations close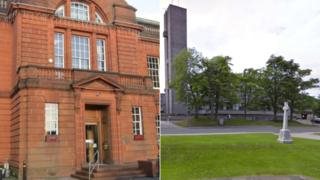 More than 150 candidates are standing for election to the councils in the Borders and Dumfries and Galloway.
Nominations closed for the two south of Scotland authorities on Wednesday.
A total of 88 candidates have been confirmed in Dumfries and Galloway across 12 multi-member wards - with 43 councillors to be elected.
In the neighbouring Scottish Borders, there are 75 would-be councillors battling it out for 34 places on the local authority in 11 wards.
The political breakdown of candidates varies in the two regions.
Dumfries and Galloway sees the following challengers:
20 independents
17 Labour
17 SNP
16 Conservatives
7 Scottish Green Party
6 no political classification
3 Lib Dems
2 Scottish Libertarian Party
In the Scottish Borders the candidate breakdown is:
20 independents
18 Conservatives
13 SNP
9 Lib Dems
8 Labour
7 Scottish Green Party
Voters go to the polls on 4 May to elect their new councils.