Three bikes worth £12,000 stolen in Innerleithen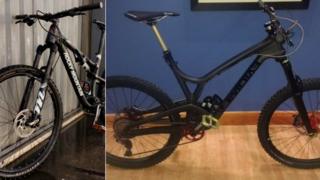 Three bikes worth £12,000 have been stolen from outside a house in Innerleithen in the Borders.
The bikes were taken at about 12:10 from the rear of a vehicle parked on a drive on the B709 near Traquair Kirk.
Police said they were put in another vehicle which then drove off in an unknown direction.
A black full-suspension adult bike worth £7,000 was stolen, along with two boys' bikes worth £2,500 each. Police have appealed for witnesses.
Officers said the thefts took place in a "remote location" that was not directly accessible to the public.
The adult bike is described as a "custom-built Evil Insurgent" with a 20in carbon frame. The boys' bikes are both Rocky Mountain Thunderbolts with black 14in frames and white detailing.