Teenagers wearing face paint attack man in Kelso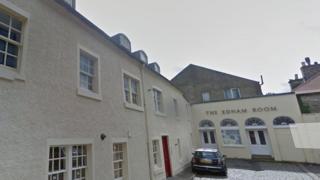 Police are investigating an attack on a man by three teenagers wearing "distinctive" face paint in the Scottish Borders.
The 30-year-old was chased in Bridge Street, Kelso, between 03:00 and 03:30 on Sunday when he was chased by the three teenage boys.
He was caught outside the Ednam House Hotel and assaulted by two of them.
The teenagers were aged 14-16 and are believed to have had red or orange face paint below each eye.
The victim suffered a minor eye injury in the attack.
Police have appealed for witnesses to contact them.