Four candidates to fight Borders by-election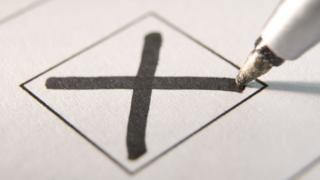 Four candidates will stand in a by-election to replace former Conservative MSP John Lamont in Ettrick, Roxburgh and Berwickshire.
Rachel Hamilton, who quit as a list MSP in a bid to retain the constituency seat for the Tories, will be one of the names on the all-female ballot sheet.
Lib Dem Catronia Bhatia, the SNP's Gail Hendry and Sally Prentice, of Labour, are also nominated.
Mr Lamont resigned his seat at Holyrood to contest the Westminster election.
He is seeking to unseat the SNP's Calum Kerr in the Berwickshire, Roxburgh and Selkirk constituency.
Mr Kerr has the slimmest majority in Scotland - 328 votes or 0.6% from the 2015 vote.
Also contesting that election are former Labour MP Ian Davidson and Lib Dem Caroline Burgess.
The Holyrood by-election will be held on Thursday 8 June - the same day as the UK general election.