Northern Ireland coastguard aides major search for speedboat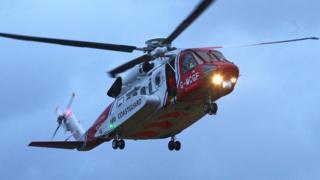 Northern Ireland coastguard crews are taking part in a large scale search for an overdue speedboat off the coast of Dumfries and Galloway.
Two helicopters, coastguard rescue teams and several lifeboats were involved in the operation overnight.
The search began at 18:15 on Saturday following reports that the boat had not returned to Port Logan.
Lifeboats from Portaferry, Bangor and Donaghadee were given designated areas to search.
Maurice Neill from Donaghadee lifeboat said: "This is one of the biggest searches I can recall.
"Our lifeboat is searching the mid channel. Some debris has been found - however two people are missing."
Coastguard rescue teams from Portpatrick, Stranraer, Ballantrae, and the Isle of Whithorn were also involved in the operation.
They were joined by lifeboats from Port William, Stranraer, and Ramsey and Peel on the Isle of Man.
Coastguard search and rescue helicopters from Prestwick and Caenarforn in Wales have also been scrambled to help.
It is understood that the search recommenced earlier after crews swapped and vehicles re-fuelled.