Borders and Dumfries and Galloway council administration talks needed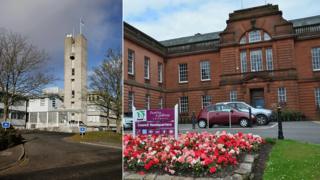 Talks will be needed to form council administrations in the Borders and Dumfries and Galloway.
The Conservative party emerged with the most councillors after voting in both local authorities.
However, they did not win enough seats to form an outright majority meaning coalitions could be on the cards.
Dumfries and Galloway was previously run by a Labour minority administration with an SNP/Lib Dem/Independent alliance in the Borders.
In the Borders, the Tories took 15 seats followed by the SNP with nine, eight independents and two Lib Dems.
There were 16 Conservatives elected in Dumfries and Galloway with Labour and the SNP tied on 11, four independents and one Lib Dem.
It means a number of combinations could, potentially, end up running the local authorities.