Firefighters tackle forest blaze near Sanquhar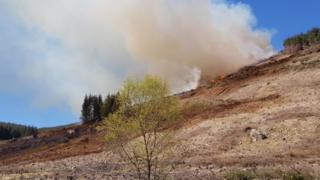 Firefighters have been called out to tackle a blaze reported in woodland near Sanquhar.
They were sent to the scene at Glenglass Forest, to the west of the town, at about 12:30.
The Scottish Fire and Rescue Service said four appliances were in attendance and crews were using powerful hoses to tackle the flames.
It added that the fire had affected an area of "roughly one hectare" in the forest.