A75 crash driver Stuart Logue fails in bid to lift motoring ban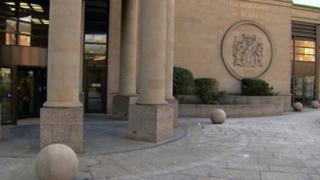 A driver who was banned for 14 years for causing a crash in which three people died has failed in his bid to get back behind the wheel.
Stuart Logue, 28, who was disqualified and jailed for eight years in 2008, claimed at the time he never wanted to drive again.
He had only passed his test five weeks before the crash near Dumfries in 2006.
He argued he needed his licence back to help the family business but a judge ruled it was still "too early".
The High Court in Glasgow heard the Dumfries firm had taken on a new large contract and needed him to be able to drive.
His defence counsel Louise Arrol said: "The work load at the family business has increased.
"It is no longer possible to continue to ensure the work is covered with only two drivers.
"His father does not wish lay off his own son."
'Catastrophic crime'
Ms Arrol said the business could not afford to employ another driver.
She added: "There is no doubt this was a truly catastrophic crime.
"Mr Logue is now engaged and has been in full-time employment since he was liberated from custody in 17 February 2011.
"This accident happened more than a decade ago in 2006."
She said he was aware of the gravity of the offence.
"It was a life-altering event because of him," she said. "Since then Mr Logue has demonstrated maturity and remorse."
Judge Lady Rae refused the application and described it as a "particularly serious incident".
"The crash was catastrophic," she said. "Three people died and another has life-changing injuries.
"It is one of the worst cases I have seen.
"The crash was terrible, appalling. I think it is too early to have your driving licence returned."
Dangerous driving
Logue was banned for 14 years and jailed for eight years in 2008.
He and Graham Lynn admitted causing the deaths by dangerous driving in November 2006.
Lynn was jailed for ten years and two months and banned for 15 years.
A third accused Shaun Marshall admitted a reduced charge of dangerous driving and was locked up for 13 months.
Both Logue and Lynn subsequently had their sentences cut with Lynn given a term of seven years and eight months and Logue was jailed for six years.
All three Dumfries men had been racing on the A75 near the town driving at speeds of up to 90mph, repeatedly overtaking each other and driving from side to side across the roadway on 5 November 2006.
Graduate Bethany Secker, 21, died in the crash as did Mark Johnston, 16, and Luke Shearman, 17, both of whom were passengers in Logue's car.