Stranraer Academy 'flame thrower' alert issued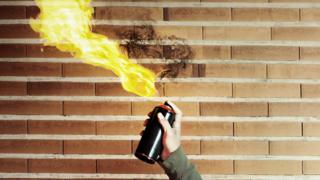 Police have issued a "makeshift flame thrower" warning to parents at a school in Stranraer.
They said it followed an increase in reports of incidents at Stranraer Academy and in the wider community.
Witnesses have seen young people lighting aerosols with naked flames such as cigarette lighters.
Campus police officer PC Ronnie Boyce said it was an "extremely dangerous activity" which could have "devastating consequences".
Parents and guardians have been asked to watch out for signs that their child could be involved including:
lighters in school bags or jackets
increased use of deodorant
aerosols in their possession not bought by the parent
smell of burning on clothes
singed hair
They have also been asked to be aware of their children's whereabouts at all times.
PC Boyce added that a recent spell of dry weather meant even small fires could quickly get out of control.