Conservatives and independent coalition takes over Scottish Borders Council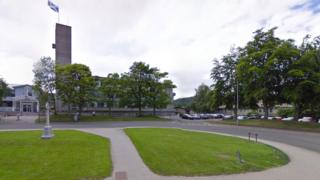 A new Conservative-independent coalition has taken formal control of Scottish Borders Council.
The two groups agreed a deal earlier this month after the Tories won most seats at recent elections.
Conservative Shona Haslam took up the leader's post at the council's first full meeting since the vote.
She replaced independent David Parker in the role which he held in the previous SNP/Lib Dem/independent administration.
The Conservatives won 15 seats on the local authority ahead of the SNP on nine, eight independents and two Lib Dems.
The new administration was agreed when the full council met in Newtown St Boswells.
The full list of appointments made is:
convener - David Parker (Ind)
leader - Shona Haslam (Con)
depute convener and executive member for adult social care - Tom Weatherston (Con)
executive member for children and young people - Carol Hamilton (Con)
executive member for finance - George Turnbull (Con)
executive member for business and economic development - Mark Rowley (Con)
executive member for transformation and HR and Cheviot committee chair - Simon Mountford (Con)
executive member for roads and infrastructure and Eildon committee chair - Gordon Edgar (Ind)
executive member for culture and sport - Euan Jardine (Con)
executive member for planning and environment - Tom Miers (Con)
executive member for neighbourhoods and locality services - Sandy Aitchison (Ind)
Teviot and Liddesdale committee chair - Stuart Marshall (Ind)
Berwickshire committee chair - Jim Fullarton (Con)
Tweeddale committee chair - Robin Tatler (Ind)
police, fire and rescue and safer communities board chair - Watson McAteer (Ind)
audit and scrutiny chair - Stuart Bell (SNP)
New leader Ms Haslam said: "I am delighted that the new administration has been confirmed.
"I look forward to working alongside all my colleagues over the next five years in order to achieve the council's vision, which seeks the best quality of life for all the people in the Scottish Borders, prosperity for our businesses and good health and resilience for all our communities."