Driver banned after bus left hanging over river in Jedburgh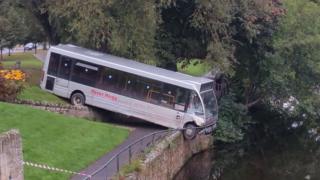 A bus driver has been banned from the road for two years after his vehicle was left hanging over the side of a river bank.
Colin Hill, 61, was behind the wheel of the single-decker bus when it crashed through a wall and railings in Jedburgh on 13 October last year.
It came to a stop with its front wheels hanging over the Jed Water.
At Jedburgh Sheriff Court, Hill, of Hawick, admitted a charge of dangerous driving and he was fined £300.
The court was told that Hill could not explain how the incident happened.
He admitted failing to control the bus by driving at excessive speed for the conditions and road lay-out.
He failed to give way to vehicles on the A68, before colliding with a car, railings, a wall and a road sign and driving over grassed area towards the Jed water.
The two passengers who were travelling on the bus escaped unhurt.
Hill has been told he will needed to sit the extended test after his two year ban in order to get his licence back.